This morning I took with me the altar veil (the cloth which covers the chalice and paten) which was made out of Gretchen's wedding dress. I chose this item to bring from St. Andrew's, since it represented to me a true understanding of community and communion, the giving of oneself to the greater good and the glory of God. It represented to me so much of what I found as the place of my resurrection: self-emptying, surrender, commitment, and dedication to following Jesus.
Today I laid it upon the marble slab, which somehow oozes this fragrance, perhaps of myrrh, and feels like a very holy space to me. I flattened it out, in the midst of others who were placing crosses, icons, embroidery, or their hands upon the holy altar of Jesus' healing.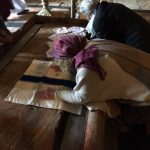 I prayed for our parish, for healing and grace to abound, for courage and strength to follow the way of the cross to pervade our every move, to turn ours hearts ever more toward the ones in our neighborhoods who desperately need to be drawn into community. I felt grace. I felt abundance. I felt Jesus blessing us, this day and always.
I return to you this week, with an open heart and a renewed sense of gratitude and joy, that we have found each other and offer ministry together out of our love of Christ.