After 24 hours of traveling from Jerusalem to Shippensburg, I arrived safely home. In the tiredness I feel this morning, and in light of the comments yesterday by others in our group that "I need a vacation from my vacation!", I realize there's a significant distinction between restoration, which we often get from a relaxing and restful vacation, and a pilgrimage which has led us to our place of resurrection.
In my pondering, I believe restoration or renewal returns us, with new energy, to who were before. This often happens to me when I sit on our sailboat: I feel physically rested, my mind is clearer, my heart more open, and I feel more alive and more "like myself". We all need this rhythm of restoration in our lives and our contemplative practices often are what guide our path toward this time of feeling ready to face the world before us with renewed energy, focus, and strength.
But resurrection changes us. It creates something anew in our hearts, it awakens desires and passions around change in our lives or our world, and it often alters our mental perspective toward the events around us. And it's hard work and it costs energy. So after a pilgrimage, I think it's only naturally to feel a bit drained. As one of our pilgrims said yesterday, we have to allow our lives to grow and to "fit into our new shape". This is the reorientation part: reflecting upon and allowing our experiences to change our lives and to be reoriented to the new self God has created in us on our pilgrimage.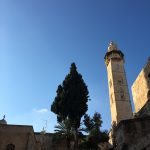 It is true that for me today will be a day of restoration, not only of unpacking and settling into my wonderful life with my family and my home in the woods and the energy and ministry of our parish, but also to gain the energy to allow my life to fit into the new shape God has offered me during my pilgrimage, that shape of deeper surrender to the will of God.
May God bless us all as we travel the pilgrim's way of resurrection and reorientation and grant us the grace to be restored in the Spirit for this hard and challenging work.