Our young people are amazing and have the ability to see the holy around, among, and within them. We wanted them to have an opportunity to share all this with their bishop, Audrey Scanlan, during her visit with us on Sunday.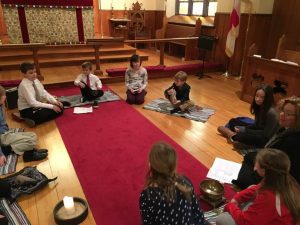 Using a format that involved sharing, silence, meditative chanting, and the ringing of a singing bowl, children and adults gathered together to share the sacred in their lives and in their church experience. Themes of finding God in comfort, love, peace, wholeness, and in nature came from our hearts. It was clear that the children find God often and in many places, including in our church, through their offering of their musical talents, through the people near them, through the support others have given them, through the safety of the community, through the proximity to the altar, through their service as acolytes, and through the hearts of others. One young person said that when she sings in front of the congregation, it is clear to her that God is looking back at her through all the people gathered.
How blessed we are that we have young people who are being formed well in their faith, with eyes opened to the presence of God within, around, and among them. Thank you to all who support our young people in their faith formation. I believe it's making a big difference to them — and to us!