Today, in the glory of the sunshine and the beauty of God's creation, 23 of us gathered together to spend the day enjoying each other's company, learning something about God, and taking time to relax, breathe, put away our cell phones, and connect to something deeper within each one of us, and among us — a sense of family. We were expertly led by three guides: Joe, Jeremy, Kristin who not only instructed us on how to canoe, but also helped make the trip memorable, inviting our young people to refresh in the cool crisp water of the Conococheague, alerting us to the blue heron who seemed intent upon guiding us down the Creek, delighting with us at the large carp swimming among us, and bringing us to the perfect place to nourish our bodies and souls, when we needed a lunch break. It was a day of peace, calm, fun, and care for each other and God's creation.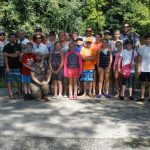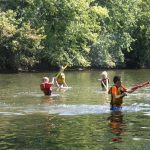 We ended the day reflecting upon the "best" of the day for each one of us. Answers varied from the wildlife we saw (such as a bald eagle, which was incredible!), to the varied nature of God's creation, to the community easily formed, to the weather, to our safety, to our guides, to our sense of calm we found was finally ours to settle into.
Several of the comments offered made my heart smile– the sentiment offered was that even if they can't get to church each Sunday, they are still welcomed, embraced, and engaged with as a part of our parish family on events like this. This is exactly the church I want us to be and live into. We say, in our mission statement, that we are an inclusive and welcoming community. This is one way we live it out: that we are not a closed club. We are not a group of people who demand a certain level of involvement or commitment to be "counted among us". We always swing wide the door, always inviting people further into the mysterious place with God and within our parish family — and we also acknowledge and love people wherever they find themselves. Today we lived into this space. Thanks be to God!
These Youth Mini-Mission Events are designed to help us understand our relationship with our earth, and therefore, with God, the creator of the earth, and there were those among us who worked tirelessly today to help repair that relationship. One of our young people, Tom, was relentless in retrieving tires that others had foolishly and irreverently thrown into the creek. He quietly and purposefully went about his business of doing what was right, ridding the creek of pollution, finding a way to bring the tires out and then to dispose of them appropriately. It was very inspiring to see someone take this initiative to make a difference.
With care,
Mother Barbara