As part of our exploration of Celtic Spirituality, Mother Barbara has invited all of us to pray daily (morning and evening) with the book, Sounds of the Eternal: A Celtic Psalter by John Phillip Newell. Here's a reflection by Jeanine Goodwin on her experience in preparation for our group conversation.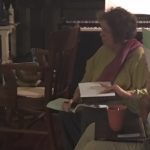 Wanting to get an idea of what this next flight of formation would bring, about two weeks ago I engaged in the prayers in John Phillip Newell's psalter, Sounds of the Eternal. Soon I found myself sitting with the prayers for a few moments because things were shimmering up off the page, and soon was doing a lectio divina of sorts, reflecting on a phrase to let it lead.
One of the prayers speaks of "rekindling", "sparks", and "part of the blazing splendor". It happened kind of miraculously, on the same day we heard a sermon about God calling to Moses out of a burning bush. That alone got my attention, and the thing that caught me up was that for a moment I was feeling like Moses might have, intimidated by such a big intense heat and brightness, such a clarity of call.
I found myself reaching for my current notebook, to try to capture viscerality of the insight before it slid down back into the depths of unconsciousness and have kept it at hand ever since.
From this morning what prompted a rise of the heart was, "You lift up my soul, O God, and make the eyes sparkle. You give health and life and blessing." I realized that in the doing, partaking of as one does a sacrament, the daily practice of prayer using Newell's psalter, I've noticed what happens when not doing it, almost more than what happens when I do. Keeping the notebook at hand, I can look back and see what rose up out of the text on a given day. Some days there are two entries, one in the morning, one in the evening. More often than not there's only one. I notice when not doing it, there's the opportunity to see what's taking it's place instead. I recalled the lives of the brothers at Holy Cross Monastery and saw that this practice of prayer, contemplation, is what shapes their days.
So then it rolled out thus: It's not how my religion and spiritual practice fit into my day, but how my day fits into my practice.  The practice has started shaping the day, shapes me in my day, becomes the foundation from which my movements, and responses arise.
I'm staying tuned.
Grace. Peace.
Jeanine