Sometimes, invitations come across our computer screen and our hearts seem immediately turned toward curiosity and engagement. That was true for me as I saw the offering by Oasis Ministries, through which I did my spiritual director training, for Contemplative Prayer Flags. I must admit, I was also intrigued enough by the thought that we could do this together sometime, so I wanted to see how they oriented this spiritual practice.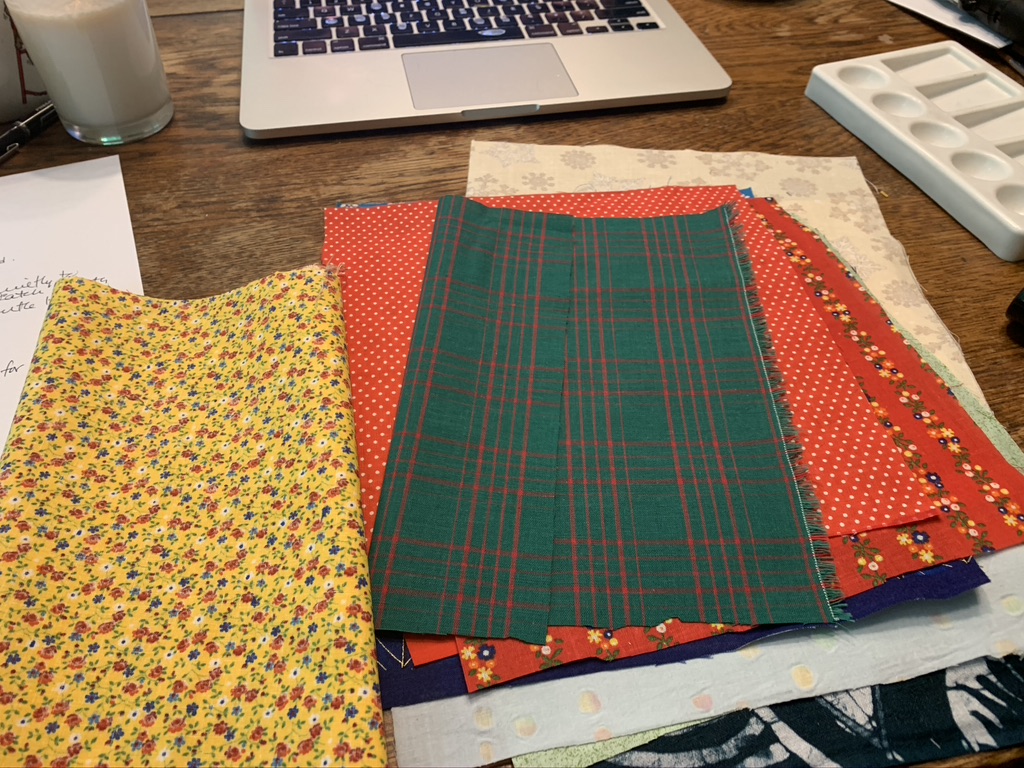 I gathered my materials: 9" squares of fabric in the designated colors (blue, white, red, green, and yellow), a set of permanent markers and acrylic paint and I was ready to go. Our webinar began in prayer as we set our intention toward this time to be one of holiness and creativity. We then learned about the symbolism and history of peace flags. Some of the images offered were stunning, of immensely long streamers of these flags, positioned high in the Tibetan mountainside, so that the breezes could spread the prayers throughout the world.
We centered ourselves in meditation, which was essential, since as we prepare to create with God, we need to open our hearts to receive the images and words we will use to create our own visual prayers. I must admit, every time before I begin an artistic endeavor, my spirit freezes and I wonder if anything worthwhile will come to my mind and heart that I could offer as a visual prayer. But after moments of settling, I found suddenly a number of images pop into my awareness. It was glorious to name the passages of scripture which were touching my heart around prayer, as well as the liturgical phrases we use so often in our service of Holy Eucharist.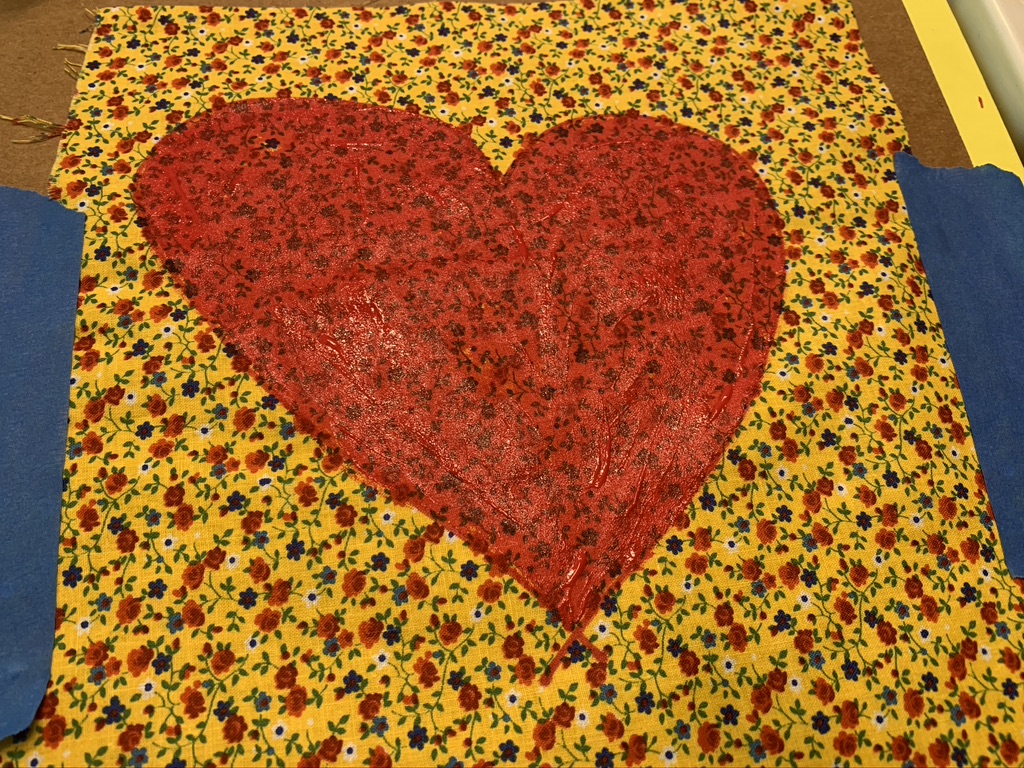 I closed my computer, put on contemplative music, took a few deep breaths, and allowed my heart to dance with the Spirit. Suddenly images appeared in my brain and I was able to make them become real on my fabric. I then added words and allowed myself to sit with them. Ultimately, I put the finishing touches on them and then attached them to the rope and hung them from some trees in the woods.
One of the points in the introduction was the emphasis on surrender. First, I believe, to surrender to the acceptance of imperfection, for my prayer flags are not perfectly created. Second, it was to surrender them to the elements of the earth, which the colors of the flags represent (sky, air, fire, water, earth). My prayer flags will become frayed. They may blow away. They may become faded and worn away. Already they have been drenched with the sudden rain storms we've had these past few days and I had to resist the urge to rush outside and bring them in out of the rain. But each time I feel a breeze whisper through the trees, I know my prayer for peace, expressed in so many ways in images and words, are being sent around the world, to find the heart that needs that message the most, so one soul at a time can be healed and turned toward peace.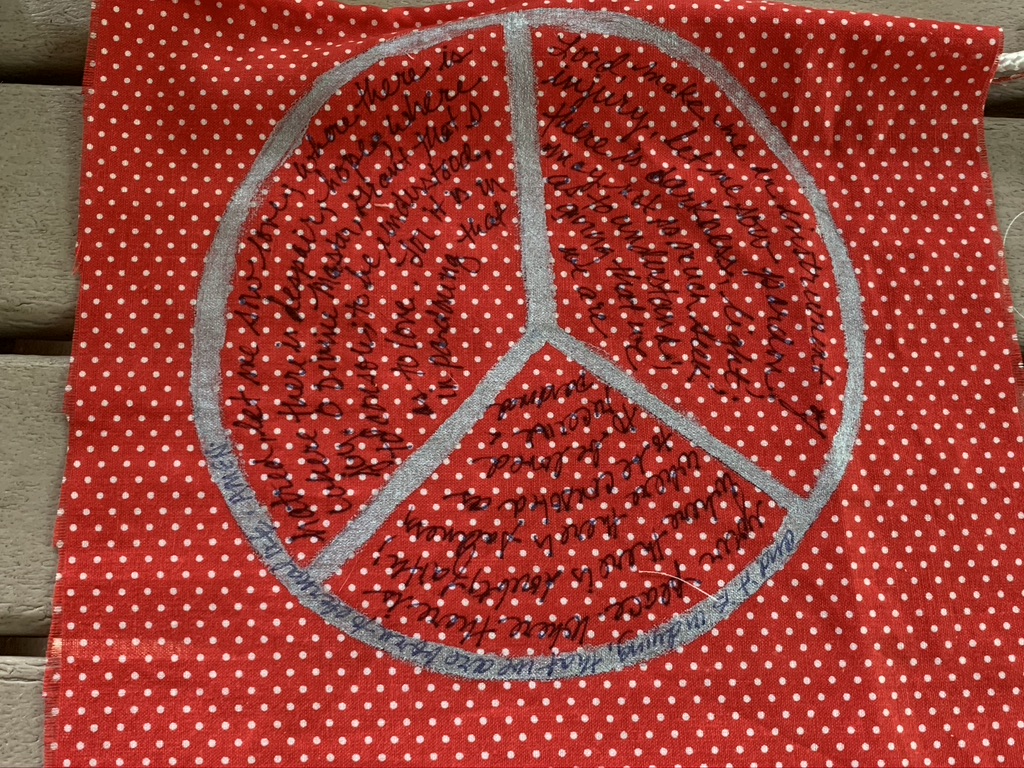 Here's what I learned, rediscovered, and connected with through this thoughtful and Spirit-filled practice:
It is the process of prayer, not the outcome that counts.
Prayer is an opening of my heart.
I can trust that the Spirit will show up and place upon my heart the right prayer.
There's a gift in releasing our prayers into God's world.
It's fun to co-create with God.
I believe prayers matter.
It was a prayerful experience in allowing the scripture or parts of the liturgy to come upon my heart to be expressed in the flags.
I love the idea that the breeze will take the prayers off into the world, wherever they are most needed.
Prayer is an act of surrender.
Prayers don't need to be beautiful. They may be smeared like the marker on the fabric, but that's okay – it's actually part of the gift, that we can offer our imperfection to God—and through God's grace, all is made whole.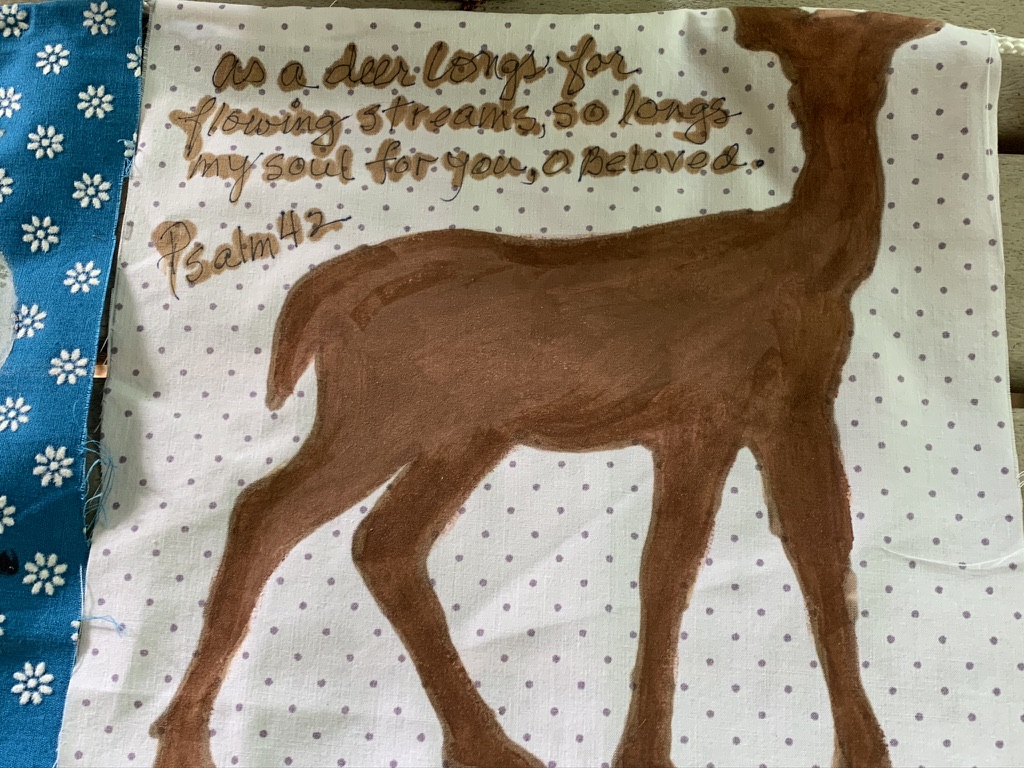 I do hope you will want to make your own set of peace flags – maybe we can do this together? Please let me know if you are interested. The flags can be any size and should be placed outside. They could be over your doorstep or on your porch, or outside your window where you will see them often so you can daily reconnect with your prayers. As I create my labyrinth in my woods this summer, I will create a set which will welcome people into that particular holy space.
May Christ's peace be with you,
Mother Barbara