I could easily describe my experience of the past 48 hours in one phrase: "twilight zone". It was a disconcerting and frustrating time of waiting, delays, lines, and ultimately confusion and frustration. On Wednesday evening, our plane from Newark to Israel was delayed and ultimately cancelled.
From the very beginning, our pilgrimage has taken unexpected turns. Already I have found myself surrounded by people speaking a foreign language to each other and to me, with an expectation of my comprehension. I have been beyond exhaustion. Members of our group spent a night sleeping on the floor. Another has already lost something important. It seemed like an eternity since I handed over all my possessions (my suitcase) to strangers, with now limited expectation I'd ever see it again. We have made some decisions we may not have made in the past (such as hopping onto an airport hotel shuttle at 3 a.m. to go to a hotel with which we hadn't yet obtained a reservation). We have heard others grumble loudly, and we have grumbled ourselves. We have also laughed and nearly been brought to tear by that laughter, and also by the absurdity of our thwarted plane trip to Tel Aviv. We have prayed. We have tended to each other, and at least most of the time, could muster at least a speck of generosity of spirit toward ourselves and others.
Disorientation is the pathway toward reorientation. I preached about this a lot this summer when we explored the psalms, since it's Walter Brueggeman's theory of orientation-disorientation-reorientation. I realized on the 10+ hour trip to Israel today (which finally happened) that we had just experienced our period of disorientation, so that our reorientation could emerge on the rest of our pilgrimage.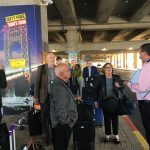 Do I wish there had been no delays and we had been walking the streets of the Old City Jerusalem, rather than the hallways of the Newark airport yesterday? Absolutely!
But I bet it is important that we have lived in the "twilight zone" a bit. I bet it matters that we are being disorientated, so we can be resurrected into something new during this trip. Disorientation must always proceed reorientation, it's just so hard when we want everything to go the way we expect and want. And yet, so often leaning into that unexpectedness is exactly what brings us into a new place with God.
We did finally land in Tel Aviv this afternoon and our feet have touched Holy Land. Thanks be to God.