At our Annual Meeting on Sunday, we approved the slate of vestry members, recognized the outgoing vestry members, celebrated our ministries in 2017, had a frank conversation about our financial deficit, and approved our budget for 2018. All of those things were fabulous and spoke volumes of the strength of our parish.
For me, however, the highlight was in presenting my Rector's Award to two of our young people. Typically, only adults receive this award and it's usually because of some new ministry developed, some extra giving of energy and enthusiasm to an existing ministry, or some show of extra devotion to our parish. I decided this year to give this award to two young people — and have pledged to each year raise up our young people in their ministry at St. Andrew's with my award.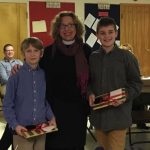 I chose Alexander Smeltz and James Williams as recipients of my award. These young people (ages 11 and 12) have shown to me and our parish what it means to be a Christian: being willing to take a risk in answering God's call for the benefit of the community. Alexander has delighted us with his playing of his trombone, a relatively new instrument for him, and has on many occasions offered himself for the glory of God in this way. Alexander also comes to church all the time, attends the mini-mission events, helps at the community meals, and "lives and breaths" church — and we are all the better for his dedication.
James Williams approached me and asked me how old someone had to be to preach. I was quite impressed. James and I preached a sermon last fall and James shared his own personal reflections that opened up the text for us all. James also offers his musical talent in playing the trumpet in church often, comes to church all the time, attends the min-mission events, and is always the eager acolyte. He is passionate about being involved in the church in all possible ways. Both these boys have already moved from a casual faith to a committed one.
I presented them with a graphic New Testament (a Bible presented in comic book style) and a necklace which I hope will always remind them of God's love and the love of many in our parish. The necklace says "Always remember you are braver than you believe, stronger than you seem, and smarter than you think, loved more than you know."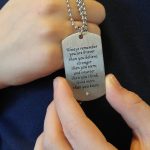 My sense is that these two boys, as well as other children in our parish, have already figured out how to be spiritual AND religious, in that we have given them the opportunity and encouragement to find and express their spirituality within our church setting. They give me much hope for the church, here and now in the example they are setting for us all, and for the future of the church as I believe they will continue to be leaders. Thank you Alexander and James for your leadership and your love of God and of our parish!
In Christ's love, Mother Barbara