Our focus this year is on how to be in right relationship with God by being in right relationship with our earth, God's creation and primary revelation. Our young people are leading us in this effort, of course! Yesterday, we held a Youth Mini-Mission Event which helped us understand how crops and livestock can be grown in a way that works with the earth.
We visited Oyler's Organic Farm, where they harvest apples, raise cows, pigs, chickens, and turkeys, and have a wonderful farm stand which sells only certified organic products, that either they produce or other business do. The woman, who was a 7th generation Oyler, told us about their commitment to growing produce organically, both in terms of the future direction of farming, but also because she remembered her father coming in after applying the pesticides with dilated pupils and pesticide poisoning and deciding that's not a good future for his children and grandchildren.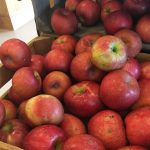 We tasted amazingly delicious cider after seeing the processing room and examining the equipment which cleaned all the apples produced in their orchards. One thing that really stood out to me was the mindset behind organic farming — building up the strengths (nutrient rich soil supplements), bringing in and supporting the natural pollinators (bees), and training the apple trees in such a way that helps them naturally resist infection. It sounds a lot like a spiritual rule of life — support those practices which build up our strength in God, bring in resources that help our spiritual lives come to fruition, and adopting disciplines that keep us supported and growing in the right direction. There was a lot of wisdom in what she shared with us.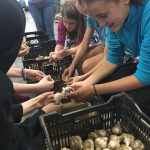 After experiencing what it would be like to be a migrant worker who would paid to prepare the crops for sale, such as cleaning the garlic cloves, we left there happy and refreshed in the idea that people are purposefully choosing to make a difference in how they move from "users" to "caretakers" of our land.
We then went to Boyer's Orchards, where we had the opportunity to glean for apples, in cooperation with the Gleaning Project of South Central PA. We had a great time picking and sorting Crispin apples. We picked over 1000 pounds of apples, all of which will be distributed to food banks in our area. It was a perfect day of having fun, while making a difference in our world, to those who are hungry, and to the earth which we are called to care for.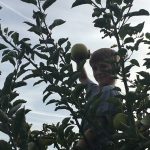 Our next Youth Mini-Mission Event is 11/5, when we will go into the Michaux State Forest to learn about how to manage forests well and to clean up a trail. All are welcome to join us!