A number of us gathered this past Saturday, as the warm air surrounded us and the bright sun shone down upon our shoulders, warming us to the chilliness of Middle Spring Creek, which we found ourselves wading in as we participating in a stream clean-up as one of our Youth Mini-Mission Events.
We began by learning about what a watershed is and why it matters. The map shown to us by our excellent guide visually showed our connections with each other, from those living in New York State, all the way down into Maryland. The blue intricate lines all over the map set the framework for our work as mission: loving our neighbors as ourselves means caring for the water and ground in our area well, so it doesn't damage those further down in the watershed, and with cleaning up the stream, means actually enhancing the water quality for those in Maryland.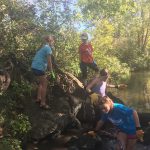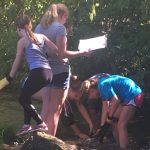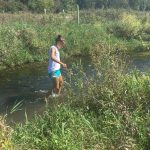 Our work, which was also fun and involved laughter and play, meant we were to wade in the creek and pick up trash.
Some of us were recording the amount of trash collected. Others took water samples for testing.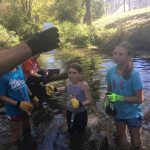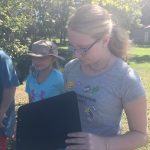 Some delighted in identifying the insects, fish and ducks which we came across during our walk.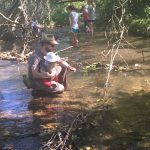 All of us had fun.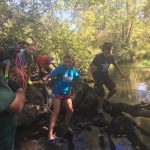 All of us came away believing we had done good work.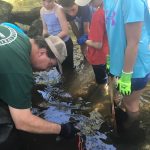 All of us came together to "love our neighbor as ourselves" in a real and concrete way. All of us helped restore our earth to the way it should be.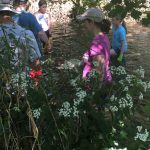 This was good and faithful work, my friends!
Our next mini-mission event is scheduled for October 21st when we will go gleaning and visit a farm which produces food while not damaging the environment. For more information, please see Mother Barbara or Tim or Irene Hawkins.