The Episcopal Home
The Shippensburg Episcopal Home for the Aged was established by the Diocese of Central Pennsylvania on March 2, 1927. The Home is an affordable residence that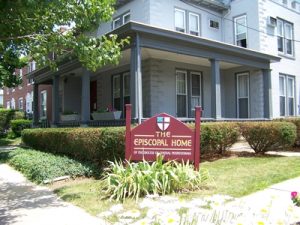 provides personal care while allowing residents to live as independently as possible. Anyone may apply for admission since the Home does not discriminate in its admissions or operating policies because of race, religion or sex. There is no entrance fee, the monthly rent is affordable, no length of stay contract is required and all services are included.
As a non-profit residence, the quality of care at The Home is rarely compromised and preserves the personal dignity and individuality of residents. Residents receive assistance with medications, daily living tasks, home-cooked meals, transportation, laundry services, housekeeping, 24-hour emergency response, planned activities, and private rooms.
The small number of residents enables the staff, volunteers, and residents and their families and friends to develop close, friendly relationships. The staff is not only friendly, but also helpful, knowledgeable, and responsible. The turnover is minimal, which is something to be proud of. Becoming a resident at The Home should not be stressful, but something to look forward to as a new adventure.
Check out their website at http://www.episcopalhome.com
Healing Service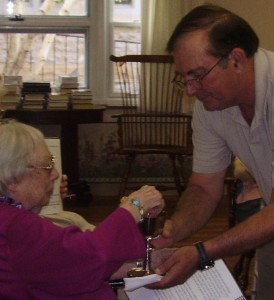 We provide a ministry of healing to the residents each Wednesday morning at 10 a.m. We offer the service of Holy Communion and healing prayers.  We recognize the unique spiritual needs of the residents and offer them comfort, prayer, and hope.
Pet Blessing Service
This past year, we also did a Pet Blessing at The Home, where our young people brought their pets to share with the residents. It was quite a fun morning!