The Episcopal Home
The Shippensburg Episcopal Home for the Aged was established by the Diocese of Central Pennsylvania on March 2, 1927. The Home is an affordable residence that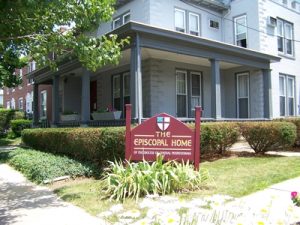 provides personal care while allowing residents to live as independently as possible.
The Episcopal Home is a place where residents receive friendship, spiritual healing, rest, recreation and excellent physical care in a peaceful setting which allows them to live the last chapter of their lives in a place of safety, warmth, and love. The Home is able to care for those with limited financial means, because parishes of the Episcopal Diocese of Central Pennsylvania support the facility.  Through the ministry of the Episcopal Home, the Church is engaged in God's mission to value life and care for others.
Check out their website at http://www.episcopalhome.com
Healing Service
We provide a ministry of healing to the residents each Wednesday morning at 10 a.m. We offer the service of Holy Communion with healing prayers.  We recognize the unique spiritual needs of the residents and offer them comfort, prayer, and hope.  Mother Barbara is the Chaplain of The Episcopal Home and meets with the residents to provide spiritual direction, comfort, and to offer prayers. It is one of her greatest joys to know these people and walk this spiritual journey with them.