We encourage all of our young people to be in the worship service. We want their presence and their voices and their engagement and we want them to be fed with the rhythm and ritual of our liturgy. We do offer activity bags, with items especially designed for them to enter more deeply into the worship in a way that is most appropriate for their age. These purple bags are found just as you enter the red doors. However, we really do believe, even with the squirming and the running down the aisle and the joyful talking, they are absorbing the deep truth of God found in worship and we celebrate their time with us with joyful hearts.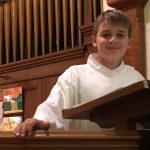 Our young people serve as greeters, crucifers, acolytes, lectors, musicians — and on special occasions as assistants in our Ash Wednesday service (imposing ashes) and our Maundy Thursday service (washing feet) and by taking communion to the residents of The Episcopal Home. We even had one of our young people (age 11) preach!
It is always a joy for Mother Barbara when she brings the young people behind the altar with her, offering them the close sacramental presence of the Body and Blood of Christ.