Pre-Confirmation Classes (9-12 year olds) – Meets Sunday at 11:15 a.m. on the last Sunday of the month, in the Upper Parish Life Center.
We understand that faith formation is a life-long and ongoing process. We're never done! Nor should we ever take a break from our formation and learning. Therefore, we have just begun offering pre-confirmation classes for our young people, approximately 9-12 years old, which focus on the Book of Common Prayer, and most specifically the Order of Service for our Holy Eucharist Sunday service. We want our young people, who have experienced worship throughout their lives, to put words to what they know, and to be able to talk about our rich and meaningful Episcopal tradition which shows up in our worship.
We found from the first class that the most important outcome of this offering is that our young people have the safe space and time to offer their burning questions about God in their lives.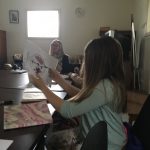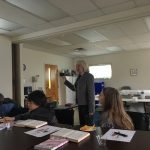 The topics to be discussed in 2018 are:  Gathering God's People: Opening Acclamation, Collect for Purity, Collect for the Day; The Song of Praise (Gloria, Kyrie,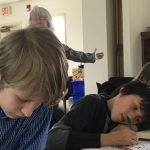 Trisagion) – Purpose and connection between movement/posture of the body and the words we say or proclaim to be true. The Old Testament Reading and the Psalm – Understanding why the Old Testament is a part of our service and how it fits in with Christianity. The New Testament Readings (Epistle and Gospel) and the sermon. We will experiment with Biblical Storytelling (a dramatic telling of the story) and will find creative ways to proclaim the good news of the gospel (maybe through liturgical dance, music, or dramatic reading). Then on May 20th,  we celebrate our Children & Youth Sunday. We will incorporate all that we have learned and created this winter and spring into the service, with the young people writing parts of the service and being a part of the gospel proclamation. We will continue the classes in the fall of 2018 and then into 2019.