Meets every Sunday at 9 a.m. on the 1st, 2nd, 3rd, and 5th Sundays of the month, in the Godly Play II Room (in the hallway near the restrooms). For ages 9-12. 
Our young people, after hearing the sacred stories and offering an art response through Godly Play for a number of years, now come together, to hear the stories again, selected with real intention, to hear them anew, and to offer an art response, this time through Legos. It's a wonderful way to engage the imaginations of this age group, bringing something of their "real" world into the church.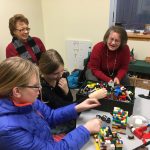 To read an article by the originator of this creative way to engage young people in their exploration of their faith, please click here. 
One pure delight was the manger they built out of Legos and which was displayed during our Christmas Eve and Day services. Can you see the baby Jesus?
.