If you are looking for a way to make a difference right now, consider supporting any of the following ministries:
Community Meal Outreach Program
If you would like to join a team or form a team of your own (4-6 people desirable), please contact program organizer, Mike Stitt. This is a wonderful opportunity to offer hospitality through a warm welcome and a nourishing meal once a month. If you would like to be involved by providing food supplies or a monetary donation, that's very helpful too. Come and be a part of making God's love real to the people in our neighborhoods.
Healing Ministry
Do you feel called to help others? Do you find joy and fulfillment in praying for others? Have you ever felt the healing presence of Christ in your lives, shown to you by others, and want to know more about this? Do people refer to you as a good listener? Do you believe God has something in mind for you, which would use your gifts to bring comfort and care to others?
If so, please let Ellen Rose or me know about this sense of calling you may have to a healing ministry. We offer healing prayers the first Sunday of each month at both services. The ministry meets every other Saturday at 9:00 a.m. for study and prayers.
Prayer Chain Ministry
If you feel a call to prayer and to hold others in the light of Christ, please contact Jan Rose, to join our prayer chain ministry. This is a wonderful opportunity to connect to our community and offer prayers for those in need.
King's Kettle
King's Kettle is a locally run food pantry that distributes food to those in need in Shippensburg. It is located at 30 N. Fayette Street, Shippensburg. Members of St. Andrews regularly help out by contributing non-perishable items, as well as volunteering their time to help on distribution days. Items for donation can be left in the blue bin found in the Parish Life Center and will be taken to King's Kettle once a month. All non-perishable, in-date food items are welcome. For more information contact J.R. Wells at 530-9200.
Shippensburg Produce Outreach (SPO)
SPO provides fresh fruit and veggies, eggs and dairy products every Tuesday to those who are in need in Shippensburg. You can volunteer your time and talent in the following ways:
1. Bag fruits/veggies: Tuesdays 1pm – 2pm.
2. Assist with distribution: Tuesdays 4:45pm – 6:3 0pm.
3. "Grow a Row for SPO":Plant an extra row of veggies in your garden.
Location of bagging & distribution: Kings Kettle first three Tuesdays of the month. 4th & 5th Tuesdays at 130 South Penn Street, Shippensburg.
The SPO Office is located at 130 South Penn Street, Shippensburg, 17257 (Penn & Orange Streets across from Memorial Lutheran parking Lot) www.shipout.org.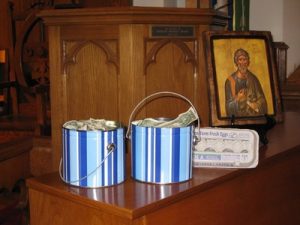 Egg Money
On the third Sunday of each month, St. Andrew's takes up a special offering to fund one week's supply of fresh eggs for clients of the  Shippensburg Produce Outreach. A total of $75 provides 100-120 families with eggs. Special containers in which worshipers may place  small cash contributions are placed at the base of the chancel steps.
If you are interested in joining any of these ministry programs, you can always contact Mother Barbara and she will be glad to connect you to those who are organizing these caring activities.