Today as I engaged with the paintings at the Prada Museum in Madrid, Spain, I was aware of how both art and liturgy are languages, both of which express and reflect our beliefs about and in God and provide portals into the experience of the holy; with art, of course, using visual images and liturgy using words as the mode of expression.
Since the church throughout history has been a major patron of the arts, today we saw a great deal of religious art, focusing on some of the master artists (Valazqeuz, Rembrandt, Vermeer). As we wandered through room after room of renowned art work, interestingly, I found the images naturally connected in my heart to the words or phrases in our worship service. This was a fascinating translation for me, for I realize how the movements and words of liturgy have become a natural language for me. For instance, each time I saw an image of a chubby cherub, I heard the words in our Eucharistic Prayer "therefore with angels and archangels and all the company of heaven", since I guess that includes chubby little cherubs, or however we have visualized "the company of heaven" in our minds and hearts throughout the ages. I'm wondering now if each time I say these words during our worship, if I will be imagining fat little-legged cherubs, some dancing in the heavenly space proclaiming the glory of God, some hovering around Mary, attesting to her holiness as the chosen mother of the Son of God, or one particularly odd depiction of a a cherub riding on a fish, in whose expression of its eye told quite the story. If you see me suppressing a chuckle at that moment in our service, you'll know the images which have come to mind!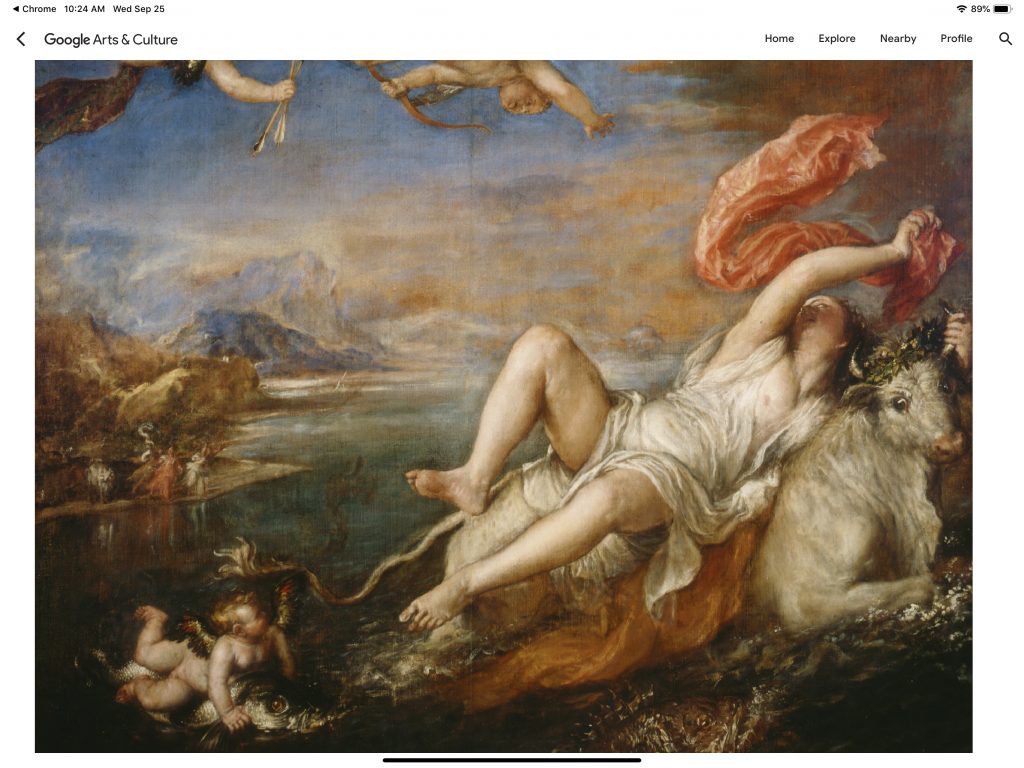 But then there was one image which did not initially translate into scripture or words of worship, and instead directly touched my heart, needing no translation. It was the Dead Christ by Alonso Cona.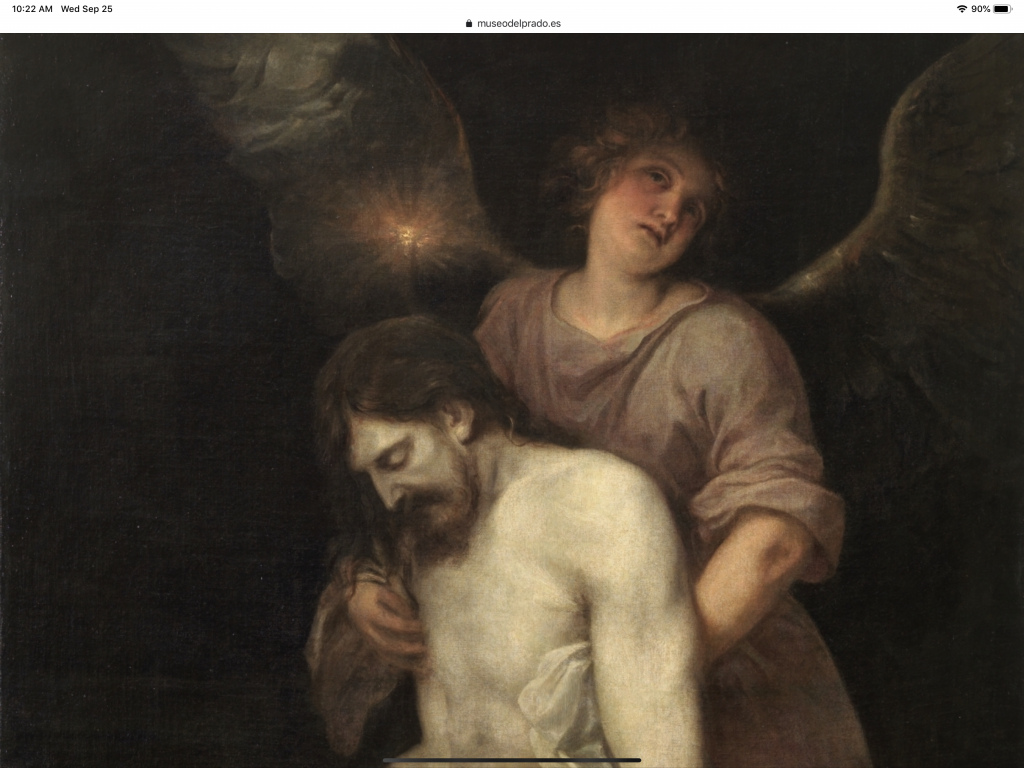 Words weren't necessary. My heart was directly touched and I was reminded of the shorthand which God and I had developed while I was in the Holy Land. Whenever I said, "huh…." (not "huh?", but a more reflective expression) I became aware I was to pay attention to what was going on in the moment, to whatever it was I was seeing or feeling, or what was around me, or happening within me, for there was something in that moment that God wanted to use to shape my soul.
Upon being drawn deeply into this painting, I was aware that this was one of those moments. I stopped in my tracks, and allowed myself to enter fully into the painting, to notice where my attention was drawn, to linger there in the presence of God, to ask the question "What is God sharing with me now through the language of beauty?" and then of course, the harder question, "What is my response?". For those who engage in the ancient art of Lectio Divina, you will recognize this process, and rather than engaging with sacred texts, I was engaging my heart in a sacred visual image.
I was drawn first to the light that seemed to pierce her wing, then to the whiteness of the crucified body of Jesus, then finally my heart rested on the expression of the angel, holding the crucified Christ, presumably carrying his being to join the heavenly host. I was expecting her eyes to proclaim holy disappointment in the human race, regret that God had invested so much in our healing which we refused to accept, or recrimination which birthed a steadfast desire to not waste another chance on us. But that wasn't at all what God led me to in her gaze. I did perceive a sense of loss, of regret that what was so carefully planned with expansive possibilities was thwarted before it was able to reach its full potential, which is often an experience we each have, when our best dreams are not fully brought to fruition.
But rather I saw acceptance of our human weakness, compassion for our efforts of realizing the life-altering experience of the incarnation, and finally hopefulness, based upon the trust that the God we are in relationship with is a God of infinite chances.
In reflection, it reminded me of that great line in the Venite we say daily in Morning Prayer, "Oh that today we would harken to his voice". It seemed to me that the angel was laying out this possibility for each of us THIS DAY. It was as if the famous line in the Christmas carol, "the hopes and fears of all the years are met in thee tonight" were indeed met in the baby Jesus, but that they can also be met in our lives today as well — that today will be the day when we will recognize and live into our salvation, when we will embrace the goodness of God within and around us, when our hearts and lives will testify to the new thing God has done to reconcile the world to the goodness intended for all of creation.
I found hopefulness in the painting, with the idea that one moment in history was not our only chance, that the God we are in relationship with is not only a God of infinite chances, but is also a God of experimentation and creativity, and that each day we are offered the chance to embrace the good news found in living Christ.
Today was a rich day of discovery, of connecting two languages in my life (artwork and liturgy) and of feeling the hopefulness inherent in the death of Jesus through the infinite "next chances" God offers us to live faithfully into the love of Christ. I haven't yet discerned with God my response to the painting, and yet it feels like exactly the right place of heart to continue this spiritual pilgrimage, which I think began when my heart leapt into the painting: one of hopefulness that TODAY is the day I will harken (more fully) to God's voice.
What are the "huh …" moments you have in your life? Or what shorthand is God using with you to grab your attention? What language does God use to speak to you?
Come let us bow down and bend a knee and kneel before the Lord our Maker.
For he is our God and we are the people of his pasture and the sheep of his hand.
O that today we would harken to his voice! Psalm 95 or the Venite